August 5th was a special day for us at Spark-Y, with over 120 runners and 30+ teams joining us for our Spark-Y Urban Adventure Race. Teams solved clues, set their route, and ran across Uptown, Minneapolis to take on challenges. Teams one prizes for Best Costume, Best Photo, Best Team Name, and, of course, Fastest Time. Team Bud and Pal won first place with a whopping 1:40:16 time taking home the first place prize. In a act of unexpected generosity, team Bud & Pal donated their winnings back to Spark-Y.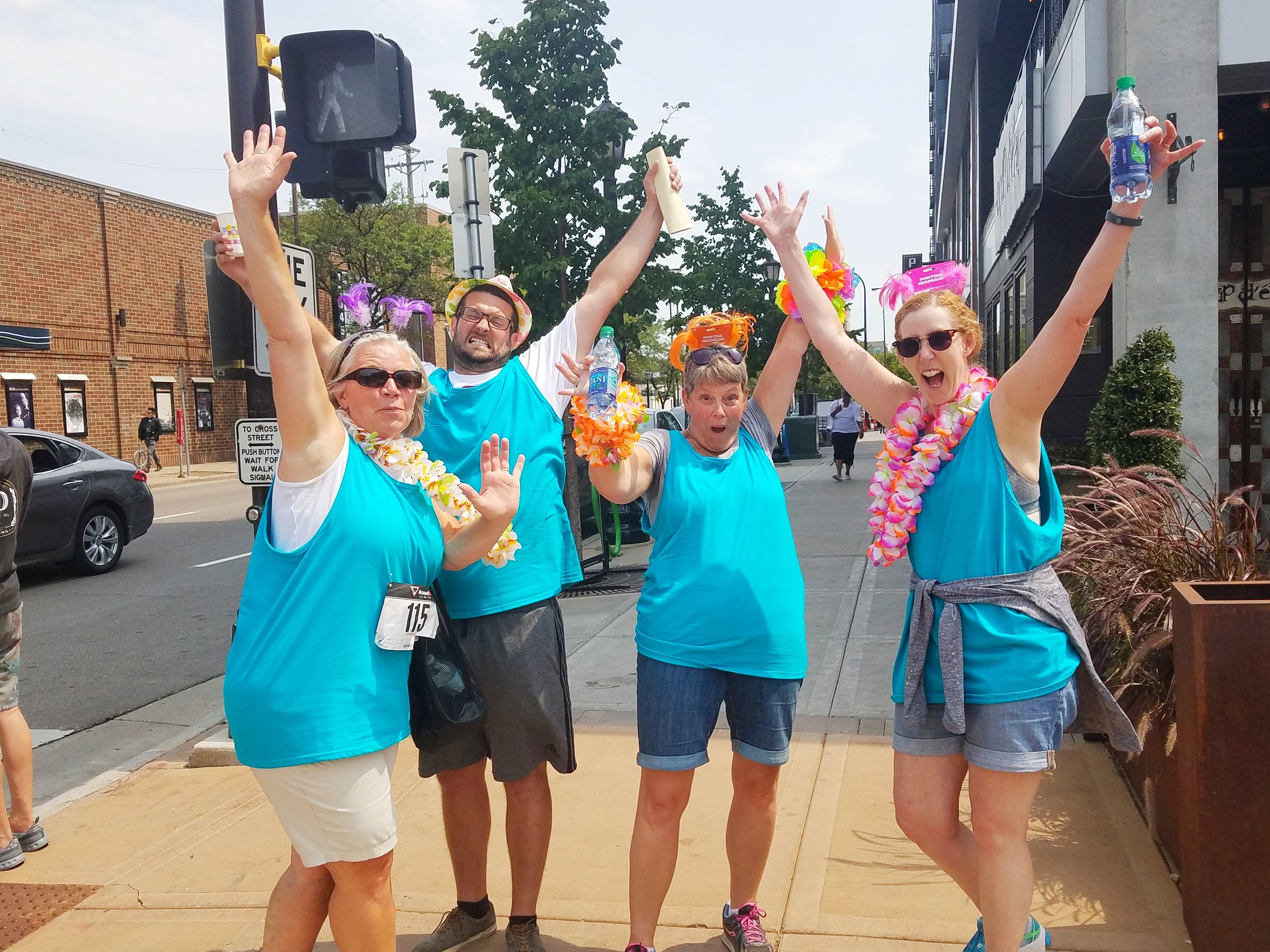 Team Time Placements:
Bud and Pal: 1:40:16
The A-Veg-ners: 2:16:30
Totes ma gaots: 2:22:38
Yang and the Annalise YAs Queens!: 2:32:10
Cereal Killers: 2:37:04
Recovering Management Consultants: 2:37:51
Frogger: 2:50:15
Ickle Me Pickle Me Tickle Me Too: 2:53:24
Classy and a little sassy: 2:56:39
Chasing Daisy: 3:04:35
Crazy Cycle Duo: 3:04:48
Geeks-Out: 3:06:21
Dorks with Triforks: 3:09:05
The Avocet Rabbits: 3:09:57
Cavaliers: 3:15:14:
Team Friendly & Co: 3:15:48
The Townies: 3:23:42
BMW: 3:32:21
Tenentix: 3:33:29
Urban Girls: 3:34:03
Ranquist Rogue Resistance: 3:59:29
Team Lucy: 4:09:33
The Luberators: 4:16:28
ChestNutz: 4:25:25
MCFM: 4:30:50
Lang-Go-Bang: 5:03:20
The Oles: 5:16:22
Golden Pigs: 5:28:12
Super Kois: 6:21:04
Minnesota Spice: 6:24:50
Team Winnipeg: 8:00:40
The Undecided: 8:3:00
Additional Participating Teams: Cottonwood, Check Mate, Hall of Shamers, and United.
Congrats to all of our participants!
Special Note:
Our goal for this event was to bring together our Spark-Y community, and a larger community of individuals, to have a rewarding, active experience in support of our mission of youth empowerment. Our 2017 Summer Interns staffed the event and manned each checkpoint. We raised over 2,500 dollars to further support our mission, the dollars raised from this event go directly into our school programs, including hands-on sustainable learning labs such as aquaponics in the classroom. We were thrilled to see such an excited group of individuals with "green-themed" costumes. Our partners put on thoughtful challenges, such as Highpoint Center for Printmaking, where our teams were tasked with making screen prints of Native MN plants, and Uptown Cyclebar, where our teams cycled their hearts out to music and motivation provided by the most wonderful staff of people.
We kindly thank all of you for making this such a special day for all of Spark-Y and our Spark-Y Twin Cities youth!
Special Thanks to our host: Lyndale Tap House, with beer donated from Wabasha Brewing
Checkpoint Hosts: Bryant Lake Bowl, Midtown Greenway Coalition, Highpoint Printmaking, Cyclebar Uptown.
and Partners: Lube-Tech, Blue Plate Restaurant Co., Eide Bailly, University of St. Thomas, Chinook Book, Tiny Diner, Red Stag Supperclub, MN Monthly, Presentation Wiz, Good Leadership.